Leo Bokeria is a unique cardiac surgeon known throughout the country. He still conducts complex heart surgeries and promotes healthy lifestyles on a scientific basis.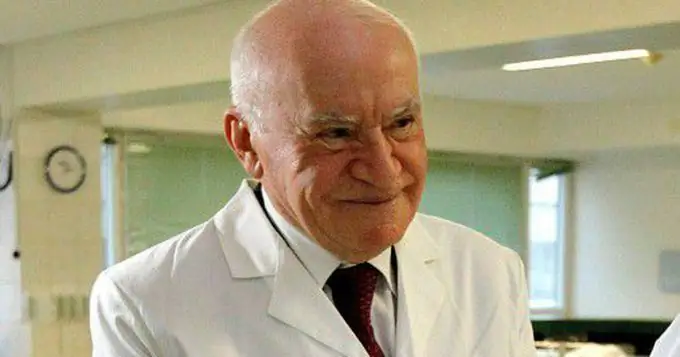 Most recently, on December 22, Leo Antonovich Bockeria turned 79 years old. At such a venerable age, he comes to the operating table three to five times a day to give life and health to his patients aged 0 to 96 years.
Childhood
The hometown of Leo (full name Leonid) is the Georgian city of Ochamchira. In 39, Abkhazia was part of the Georgian SSR. At the age of three, the boy lost his father - Anton Ivanovich, oddly enough, he remembers this day. Mom, Olga Ivanovna, had to raise and bring up three children alone, a small son and two older daughters. The child grew up practically on the street, among his peers, but thanks to a strict upbringing, he did not acquire addictions.
Education
The teenager graduated from school in the city of Poti and immediately left to continue his education in Moscow, in the 1st MMI. He chose his specialty immediately and without hesitation - a man must be a surgeon. And I learned about such specialization as cardiac surgery at the institute. And again an instant decision came - since the heart is the main organ, then it is mine. While in practice after the third year, he was admitted to independent operations, so far, however, only appendicitis.
After graduation, Leo continued his postgraduate studies at the same 1st MMI.
Work
Since 1968 he has been working at the Bakulev Center for Cardiovascular Surgery. In his work book, there is only one entry for a job, then there is only movement up the career ladder. Having started his career as a senior researcher, he was the head of the laboratory, held the position of deputy director, and for almost 25 years Leo Antonovich has been the director of the Bakulev Scientific Center for Cardiovascular Surgery.
The main heart center of the country conducts 5,700 heart-lung operations and 50,000 open-heart surgeries a year. The institute conducts unique research, develops new methods of treating cardiovascular diseases, invents and applies completely new technologies.
During his work, he wrote his Ph. D. and then doctoral dissertations.
Professor, engaged in teaching activities, heads the departments in two institutes.
His working day begins at half past seven in the morning and ends after eight in the evening.
A family
With his future wife, the famous doctor studied not just at one institute, they are classmates. Olga Aleksandrovna has been with Leo for over 50 years.
They got married after graduation, soon a daughter was born, then another. Both daughters continued their father's work: one went on the scientific side, the other on the practical side, treating tiny children. The wife is the head of the department at the Sechenov Academy. Such is the medical family.
The daughters gave their grandfather seven grandchildren. The eldest grandson also had plans to go to cardiac surgery, but changed his mind, to which the grandfather noticed that there were six more in stock.
Social activity
In addition to his main work, Leo Bokeria devotes a lot of effort to promoting a healthy lifestyle and solving problems with the health of the nation. The "League of Health" founded by him carries out colossal activities aimed at the development of health centers for adults and children in the country. His famous "Walking with a Doctor" has long gone beyond Moscow and walk around the country.
The doctor says that two hours of active walking a week adds seven years to a person's life. And also rejection of bad habits and moderate nutrition. He himself gave up smoking a long time ago and has not even taken his favorite Georgian wine into his mouth for six years. Feels great, as evidenced by his active performance.
Leo Antonovich Bokeria has more than 30 honorary titles and awards, including state awards, for his innovative activities. His office is littered with stuffed animals and pictures of happy patients. The genius doctor says that this is the most important reward.