In theatrical slang, fanatical fans of the stars are called "cheeses", and few people know why. But this word came from the name of the store that fifty years ago was located on the corner of Gorky Street and Kamergersky Lane, not far from the apartment of Sergei Yakovlevich Lemeshev. In "Cheese", the "lemeshists", who were on duty around the clock at the entrance of their idol, took turns running to get warm, for which they received a nickname, which later spread to all theatrical fans. Although as many "cheeses" as Lemeshev had, probably no one had in the entire history of the theater …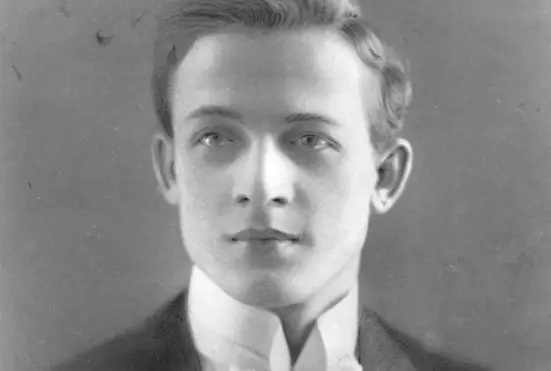 In Russia, Sergei Yakovlevich Lemeshev (1902-1977) - along with Fyodor Chaliapin - is perhaps the most beloved opera singer in modern history.
Childhood and early career
He was born into a very poor peasant family, in a small village, and sang from early childhood. He was always surrounded by good singers, including his parents and other villagers, since in those days peasant Russia was a "singing country". His father died when Sergei was 10 years old, and after four years in a parish school, he began repairing shoes, as the family had no other chance to break out of poverty. In 1918, he met the architect and opera lover Nikolai Kvashnin, who persuaded Sergei to seriously study his voice. It was the revolution that helped him fulfill his dream of an opera career, since the Bolsheviks gave the poorest peasants and proletarians the priority right to a free education. Sergei enters to study at the Moscow Conservatory, where he was admitted to the course. (This determined his political views, for, as he said many times, "advice gave me everything.")
His teachers were tenor N. Raisky (a student of Nouvelli), N. Kardian and L. Zvyagina (leading the contralto of a large.) In 1926, Lemeshev made his debut as Lensky in the opera studio of K. Stanislavsky, and from 1927 he performed in theaters in Sverdlovsk, Harbin (Manchuria) and Tbilisi. In 1931 he became the leading tenor of the Bolshoi Theater, where he sang for the next 34 years, gaining worldwide recognition. His audience grew along with his fame, and soon he found a real army of fans called "Lemeshevists". His repertoire included the Duke of Mantua, Lensky, Alfredo, Tsar Berendey (from the Snow Maiden), the Indian Guest (Sadko), Faust, Ziebel, Almaviva, the holy fool (Boris Godunov), Rudolph (Bohemia) Stargazer (The Golden Cockerel), Nadir de Greiux ("Manon"), Gerald ("Lakme"), Romeo (Gounod (Romeo and Juliet), "Fra Diavolo", and "Werther".
Career peak
His vocal and artistic qualities, obvious to every listener, are the beauty of timbre, musicality, ease of vocal production, expressiveness and very clear diction, qualities that are perhaps most often found in bel canto singers. An interesting comment on Lemeshev's singing was made by tenor A. Orfenov: "he had a mixed voice of incomparable beauty, which allowed him to hit the highest notes with such a beautiful richness that even experts could not explain how it was done technically …. His high soprano … sounds courageous and full of power … his manner of lowering his larynx in high notes allowed him to analyze those parts that we, simple lyric tenors do not sing, [the role of] Rodolfo in "bohemia", Levko in the May night, Dubrovsky, Fra Diavolo
Emotionality, acting and beauty of Lemeshev very quickly made him an idol. In addition to the Duke of Mantua, who was his main role before the war, he brilliantly performed romantic, melancholic and tragic roles such as Werther, Romeo and Lensky. Unfortunately, like every Soviet star in the 1930s, he had problems getting permission to record complete operas. Several roles in which he was very successful were not recorded at all. Lensky finally became his most famous role, which he honed throughout his life. His duet with Galina Vishnevskaya in 1955, recorded by Eugene Onegin, became quite popular abroad.
The best years of his operatic career were 1931-1942. He was also an outstanding concert singer and a brilliant folk singer. In 1938 he became the first artist to sing all 100 of Tchaikovsky's romances in 5 concerts. Folk songs broadcast on the radio made him a truly "national" singer. In addition, the film "Musical History" in 1941, in which he played the main role, brought him a Stalin Prize and caused Lemeshev mania throughout the USSR. that his personality was a significant part of his success. He is remembered as a very friendly and cheerful person who was also a close-minded colleague. He was also a very amorous man. Six marriages and numerous affairs have focused fans on his love life.
Illness and post-war years
The beginning of the Great Patriotic War) was very important for Lemeshev; during the evacuation, he caught a cold, which led to two bouts of pneumonia, complicated by pleurisy and tuberculosis of the right lung. He was treated with artificial pneumothorax, that is, induced therapeutic collapse of one lung. Although singing was banned, he actually continued to sing with one lung from 1942 to 1948. During this period, he recorded Lakme, Snow Maiden, "Pearlfishers," and "Mozart and Salieri." In addition to health problems, he began drinking heavily after his divorce from the fifth his wife, soprano Irina Maslennikova. However, by 1953 he had given up alcohol and received the prestigious title of People's Artist of the USSR. From 1957 to 1959 he was deputy head of the Bolshoi Theater. By the end of his career, he mainly gave concerts of Russian classical romances and folk songs, taught at the Moscow Conservatory and performed on the radio. His old fans who persecuted him in the 1940s and 50s are still loyal to him today, 41 years after his death. They collect his tapes and put flowers to his grave.