Larisa Verbitskaya is a well-known TV presenter of the Good Morning program. She is one of the most beautiful women in the capital of Moscow, maintaining an attractive appearance for many years.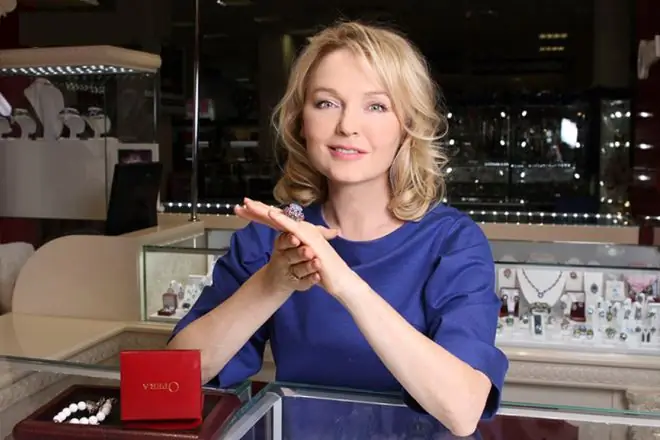 Early years, adolescence
Larisa Viktorovna was born in Feodosia on November 30, 1959. The family moved quite a lot, since her father was a military man. For a long time they lived in Chisinau.
Verbitskaya studied at school with an English bias, was fond of acrobatics, gymnast, swimming. High jumping became a serious hobby, Larisa was a member of the youth team. Parents dreamed that their daughter would study at MGIMO, but she entered the Pedagogical University to study Russian language and literature.
Career
As a final year student, Verbitskaya learned that Moldovan television was organizing a competition for the position of an announcer. Larisa decided to participate and was selected. She got a job on the republican channel, hosted several programs.
Verbitskaya began to improve the skills of the presenter, her voice was given by an experienced teacher. A year later, she was entrusted with leading the news. Once the presenter was instructed to read an obituary about Brezhnev.
On television in Moldova, Verbitsa had a career prospect, but she moved to the capital in 1985. After passing the competition, Larisa became the announcer of the Central Television of the USSR. Then she got into the morning broadcast, for more than 20 years she hosted Good Morning. Also Verbitskaya was the host of other programs.
In 2002, Larisa took part in the Last Hero show. In 2007, Verbitskaya successfully participated in the "Ice Age", Vanagos Povilas became her partner.
The presenter was also a fashion expert at Fashion Sentence. In life, Verbitskaya always follows fashion, she is considered one of the most beautiful women in the capital.
Larisa Viktorovna holds the position of vice-president of the League of Professional Image Makers, oversees design projects. Verbitskaya became the author of diet programs that help preserve beauty. Larisa herself looks great, keeping a good figure.
In 2016, in the program of Elena Malysheva, the cycle "Lessons of Verbitskaya" was released, where the presenter talked about the secrets of beauty. In 2017, Larisa Viktorovna was a guest of the Smak program.
Personal life
In her youth, Verbitskaya had a spouse whom she does not want to remember. Larisa's work became the cause of conflicts in the family. From her first marriage, the host has a son, Maxim.
The second husband of Verbitskaya is Dudov Alexander, a TV operator. Then he became a director of documentaries, commercials. They met in a circus, the man was able to find a common language with Larisa's son. A year later, they began to live together. In 1990, their daughter Inna was born. Maxim received a law degree, Inna is fond of drawing, ballet, she loves animals very much.
Verbitskaya does not refuse to participate in programs about her personal life, she was a guest of the "Alone with Everyone" program.