Avdotya (Dunya) Smirnova is the most colorful figure on Russian television. She was remembered by many for the program "School of Scandal", which she hosted together with Tatyana Tolstaya on the NTV channel. However, TV is only a small part of this interesting woman's life. Cinematography is of much greater importance to her. In it, she showed herself as a talented screenwriter and director.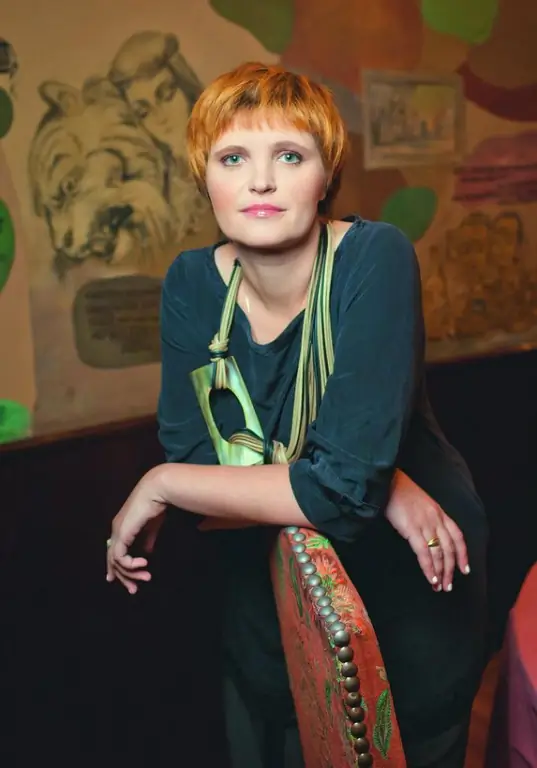 Biography
Avdotya Smirnova was born into a creative family. Her father, Andrei Smirnov, is a film actor and director (his most famous films are "Belorussky Station" and "Once upon a time there was one woman"). Mother - theater and film actress Natalya Rudnaya. Paternal grandfather of Avdotya Smirnova Sergei Smirnov is a Soviet prose writer, historian, screenwriter. Maternal grandfather - Vladimir Rudny, journalist and writer.
Avdotya from childhood was interested in two things: literature and cinema. When it came time to get a professional education, she wanted to combine these two directions into a single whole and become a screenwriter. However, the family opposed this. The Faculty of Philology of Moscow State University was chosen as a compromise. After studying there for some time, she transferred to the theater department of GITIS. As a result, I dropped out of the 3rd year, and higher education remained unfinished.
However, this did not prevent Avdotya Smirnova from fully realizing her creative potential. From the age of 18 she worked as an editor at the Mosfilm film studio. In 1989 she left the institute and moved to St. Petersburg. At the beginning of her life in St. Petersburg she was the art manager of the "cabaret" group "Dumb" and was published in the magazine "Urlight". She was an active participant in the St. Petersburg underground. She collaborated with various art associations, publishing houses, and also worked on television. Since the beginning of the 90s, Avdotya's "romance" begins with cinema, which continues to this day. From 2002 to 2014 she was the co-host of the School of Scandal, which brought her all-Russian fame.
The director is also known as a philanthropist - in 2012 she established the Voskhod Foundation, which deals with the problems of people with autism. The symbol of the fund is a blue bear.
Filmography
Avdotya Smirnova made the first three screenplays in collaboration with director Alexei Uchitel. These are two documentaries "The Last Hero" (1992) about Viktor Tsoi and "Butterfly" (1993) about the theater director Roman Viktyuk. This was followed by the feature film "Giselle's Mania" (1995) about the ballerina Olga Spesivtseva.
Among the subsequent works of Dunya Smirnova as a screenwriter and director, the following can be especially highlighted:
His Wife's Diary (2000). About the writer Bunin and his relationship with two beloved women. The main role was played by the father of the screenwriter Andrei Smirnov. The idea of the film was largely due to his portrait resemblance to Bunin.
"Communication" (2006). Her first directorial job.
Fathers and Sons (2008). Mini-series based on the novel by Turgenev.
"Two days" (2011). A romantic tape about a sudden outbreak of feelings between a museum employee and a businessman.
"The story of one appointment" (2018). A film about a real episode from the life of Leo Tolstoy, which occurred during his military service. About the lack of rights of "little" people, about justice and indifference.
Other works: "$ 8 ½" (1999), "Walk" (2003), "Communication" (2006), "Gloss" (2007), "May 9. Personal Attitude"(short story"Station", 2008),"Churchill"(film 10"Optical Illusion", 2010),"Plov"(2012),"Cococo"(2012),"Petersburg. Only for love"(short story"Walking the Dogs", 2016).
Personal life
Avdotya Smirnova fell in love at the age of 14 and lived in a civil marriage with the artist Sven Gundlach. At the age of 20, in 1989, she married art critic Arkady Ippolitov. A year later, their son Danila was born. In total, she lived in her first marriage for 7 years. Dunya Smirnova no longer wanted to unite herself by marriage, but it happened differently - in 2012 she married the famous politician Anatoly Chubais. A marriage for love and happy, despite the fact that the spouses had to start their life together in a rented apartment.
Smirnova's son, Danila Ippolitov, was a professional beach soccer player. As part of the national team, he became the world champion in this sport. In 2015 (at the age of 25), his sports career was completed. By this time, the young man graduated from the production department. His very first work as a producer was the clip of the Leningrad group "Funeral", for which famous Latin American dancers were invited.